Federal Employee Unions See Uptick in Membership Since Trump's Election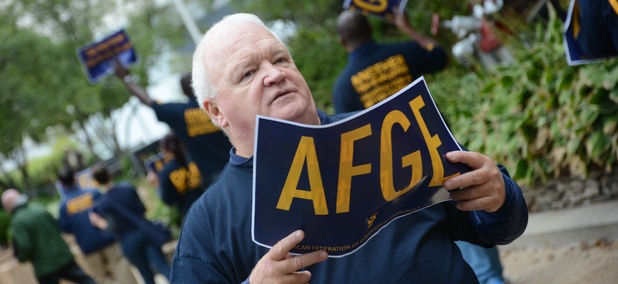 The largest federal employee unions have seen an uptick in membership since the election, as President-elect Donald Trump has vowed major shakeups to the civil service.
The American Federation of Government Employees netted nearly 1,300 new, dues-paying members in November, a more than 50 percent increase in its monthly average over the previous year. AFGE now has more than 309,000 members, an all-time high for the union.
J. David Cox, AFGE's national president, said the union must add 5,000 members each month just to break even with those departing government or switching jobs, so the organization signed up more than 6,000 members in the month. The number was especially impressive, he said, because its members were busy campaigning across the country in October and early November instead of actively pursuing new recruits.
» Get the best federal news and ideas delivered right to your inbox. Sign up here.
The National Treasury Employees Union did not have specific numbers available, but its President Tony Reardon said its numbers were also trending upward since the election.
NTEU "has made an effort to get the message out that in times of change and uncertainty employees should look to their union for guidance, protection and advocacy," Reardon said. "We've been holding information sessions at a number of locations outlining how NTEU has your back."
The National Association of Letter Carriers said its membership has continued to grow, but has not experienced an increase since the election. About 93 percent of city letter carriers now belong to the union, the group noted.
Trump has promised to issue a governmentwide hiring freeze on his first day in office and recently came under fire when his transition team asked for names of individual civil servants at the Energy Department. Trump's team walked back the request after Energy said it would not provide the names, putting the blame on a rogue employee. The president-elect's team has also said, however, the hiring freeze would be just one way Trump would shrink the size of government.
CORRECTION: This story has been updated to reflect that NALC membership has remained steady since the election.