Export-Import Bank 'Heartened' By Trump's New-Found Backing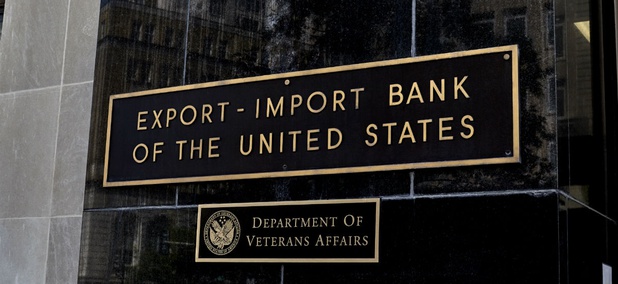 Two days after announcing a controversial new position toward the embattled Export-Import Bank, President Trump last week nominated two officials to the agency's five-member board.
In an interview with The Wall Street Journal published Wednesday, Trump—who had remained cagey in recent months on whether he would continue backing conservatives who deride the bank as "corporate welfare"—described his new attitude:
I was very much opposed to Ex-Im Bank, because I said what do we need that for IBM and for General Electric and all these. It turns out that, first of all lots of small companies will really be helped, the vendor companies, but also maybe more importantly, other countries give [assistance]. And when other countries give it, we lose a tremendous amount of business. So instinctively you would say it's a ridiculous thing but actually it's a very good thing and it actually makes money. You know, it actually could make a lot of money.
» Get the best federal news and ideas delivered right to your inbox. Sign up here.
The bank's five-member board technically has five vacancies, though two of its four-year slots are filled by acting Chairman and President Charles Hall and acting Vice Chairman and First Vice President Scott Schloegel.
Trump's nominee for president of the bank is former Rep. Scott Garrett, R-N.J., an attorney and former state representative. His nominee for board member is former Rep. Spencer T. Bachus III, R-Ala., also an attorney.
"We are heartened by President Trump's statement in an interview regarding the Export-Import Bank and his appreciation of the role the agency plays in boosting U.S. exports abroad and supporting U.S. jobs," said Caroline Scullin, senior vice president of communications. She added that since fiscal 2007, the bank has earned nearly $5.6 billion in profit for U.S. taxpayers. "We look forward to the president nominating, and the Senate confirming a full slate of five directors to the board, restoring EXIM Bank to its full functionality to support U.S. exports."
Opposition to the Ex-Im Bank has long been expressed by advocacy groups such as the Heritage Foundation and the Republican Study Group. Sen. Richard Shelby, R-Ala., who until January chaired the Banking, Housing and Urban Development Committee, had blocked reauthorization of the bank and all of President Obama's nominations to the board because he disapproved of the agency's mission.
Current Banking committee chairman Sen. Mike Crapo, R-Idaho, declined to comment.