New Plaintiffs Join Suit Against Trump D.C. Hotel Deal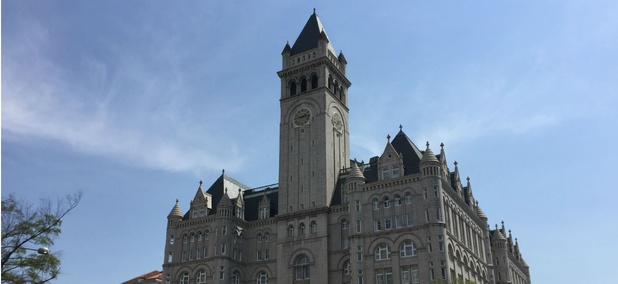 Four weeks after the General Services Administration approved President Trump's controversial lease at his Washington luxury hotel, a widening group of attorneys and impacted local restaurant interests has joined an ongoing lawsuit challenging what they say is an unconstitutional conflict of interest.
The Trump Organization's 2013 contract to renovate the federally owned Old Post Office into a high-end hotel—secured long before his election as president—has drawn scathing attacks by transparency advocates. They reject as insufficient Trump's plan to turn over management of his vast business holdings to his family and to donate to the U.S. Treasury all hotel profits from foreign government guests who stay in the Washington property.
On Tuesday, the nonprofit Citizens for Responsible Ethics in Washington announced that an association of more than 200 restaurants and thousands of restaurant workers had joined a revised version of a suit against Trump originally filed in January that asserts a violation of the Constitution's prohibition on officeholders accepting "emoluments."
» Get the best federal news and ideas delivered right to your inbox. Sign up here.
The restaurant group's move comes after two D.C. restaurateurs filed a separate lawsuit in March against the Trump hotel in D.C. Superior Court claiming unfair competition from presidential visibility. The new move consists of a revised version of CREW's January complaint in U.S. District Court in Southern New York aimed at Trump "in his official capacity as president of the United States of America."
The restaurant workers, along with Washington, D.C.-based events booker Jill Phaneuf, are represented by a high-powered team of constitutional scholars, ethics experts and litigators with vast Supreme Court experience, CREW said in a statement. They include CREW's board chair and vice-chair Norman Eisen and Richard Painter -- the top ethics lawyers for the last two presidents -- as well as constitutional law scholars Erwin Chemerinsky, Laurence H. Tribe and Zephyr Teachout; Deepak Gupta of Gupta Wessler PLLC; and Joseph Sellers of Cohen Milstein Sellers & Toll PLLC.
Their clients' association is part of the larger Restaurant Opportunities Centers United, which is made up of more than 25,000 restaurant workers and restaurants.
"This lawsuit, and the revised complaint, uphold one of the most basic aspects of the rule of law: no one, including the president, is above the law," said Chemerinsky, who teaches at the University of California at Irvine. "Every minute of every day, President Trump is receiving benefits from foreign governments and from the United States government in clear violation of the Emoluments Clauses of the Constitution."
Tribe, who teaches law at Harvard University, said: "With the filing of our amended complaint, I have no doubt that President Trump and his battalion of attorneys have no legal ground to stand on and must soon face the constitutional music. The time for dodging, weaving and distracting from his corrupt practices has run out."
Since the original CREW suit, "we've seen nearly 100 days of emoluments violations–and the violations are growing, not shrinking," said Teachout, a former congressional candidate who teaches law at Fordham University. "Instead of backing off, his actions have made the constitutional violations worse, and raise daily questions about whether he is working for his own interests, or those of his foreign benefactors."
Because the events booker and local restaurant workers are now losing business as the Trump-named hotel attracts foreign guests, "These are real businesses suffering real injury," said Gupta. "Our standing to bring this suit is now irrefutable. That means that Donald Trump will have no choice but to defend his unprecedented conflicts of interest in court."
CREW linked Trump's hotel arrangement to his "undisclosed taxes and other domestic conflicts," which Painter said, "Continue to undermine the integrity and effectiveness of the presidency."
The transparency group also joined with 19 others on March 29 in a letter to the inspector general of GSA, Carol Ochoa, asking her to review the agency's recent decision to approve Trump's lease with only minor changes.
The broadened suit was announced just as the Associated Press reported that Ivanka Trump's clothing line was awarded three new monopoly trademark selling rights from the Chinese government just as she and her husband, Jared Kushner, on April 6 sat with the Chinese president visiting Trump's Florida luxury hotel at Mar-a-Lago.
The White House did not respond to Government Executive requests for comment on either subject by publication time.