Appointee Watch: Musical Chairs in the Cabinet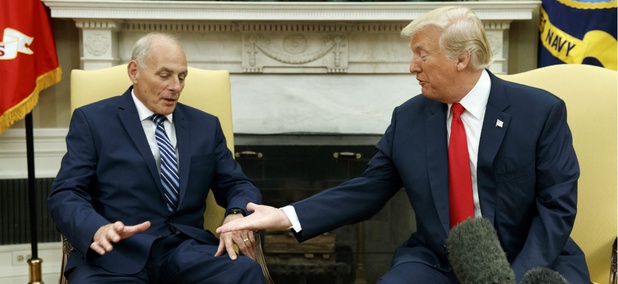 The search for a new Homeland Security secretary is on, after President Trump tapped John Kelly to replace Reince Priebus as White House chief of staff. In the meantime, Elaine Duke, a career federal employee who in April was confirmed by the Senate to become deputy Homeland Security secretary, will run the department on an acting basis.
The staffing shuffle comes at a time when observers have been expressing concern at the slow pace of filling key posts throughout the federal government. Trump's 200th day in office will be Aug. 7, but only 50 people have been confirmed to agency jobs, while 168 appointees have been announced or formally nominated, according to the Partnership for Public Service and The Washington Post, which have been tracking more than 500 key jobs that require Senate confirmation.
Charles S. Clark reports that the lack of staffing at a number of agencies worries good government advocates.
"While the pace of nominations for political appointees has picked up in recent weeks, critical leadership positions remain vacant at almost every agency and department," said Max Stier, president and CEO of the Partnership. "The president must prioritize getting his full team in place. Doing so will strengthen his ability to run the government, achieve his priorities and deal effectively with the inevitable crises that will take place in our complicated and dangerous world."
In recent days, the White House has announced the following choices for agency posts:
Consumer Product Safety Commission: Ann Buerkle, chairwoman. Buerkle is a member of the CPSC. Prior to joining the commission in 2013, Buerkle was a Republican U.S. representative from New York.
State: Sam Brownback, ambassador at large for international religious freedom. Brownback is the governor of Kansas and a former U.S. senator.
Peter Hoekstra, ambassador to the Netherlands. Hoekstra was a Republican U.S. representative from Michigan from 1993 until 2011.
Daniel Kritenbrink, ambassador to Vietnam. Kritenbrink has been a career diplomat since 1994. He is the State Department's senior adviser for North Korea policy. He previously served as the deputy chief of mission in Beijing, and he has held leadership posts at the agency and as a senior director at the National Security Council.
Justin Siberell, ambassador to Bahrain. Siberell is a career member of the Senior Foreign Service and he has been a diplomat since 1993. He is the acting coordinator for counterterrorism at the State Department and has held a number of posts across the Middle East.