The House's Top Federal Agency Overseer Will Not Seek Reelection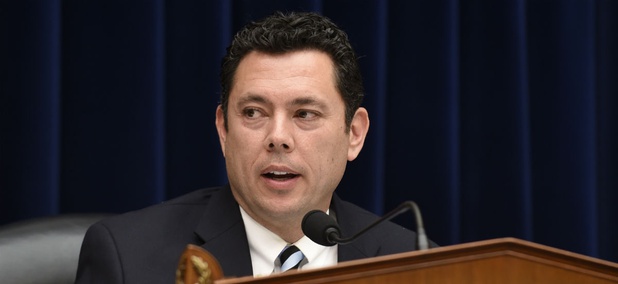 The House lawmaker with primary oversight of the federal workforce announced on Wednesday he will not seek reelection in 2018.
Rep. Jason Chaffetz, R-Utah, said he will rejoin the private sector, ending what will be a four-year tenure as chairman of the House Oversight and Government Reform Committee. Chaffetz has led the committee since 2015, spearheading efforts to hold federal employees across government more accountable for their job performance and proposing sweeping reforms on how they are compensated.
The chairman said in a Facebook announcement there were no "ulterior motives" for his decision, noting he had the "full support" of House Speaker Paul Ryan, R-Wis., to continue leading the oversight panel. While he noted he may run for office again, Chaffetz stressed that "public service should be for a limited time and not a lifetime or full career."
» Get the best federal news and ideas delivered right to your inbox. Sign up here.
Chaffetz came into his chairmanship promising more bipartisanship than seen under his predecessor, Rep. Darrell Issa, R-Calif. He has authored comprehensive reform of the U.S. Postal Service and a bill to limit federal agencies' ability to put malfeasant federal employees on paid administrative leave indefinitely, which both won the backing of Democrats and Republicans. President Obama signed the paid administrative leave measure into law last year.
The Oversight panel chairman has championed agencies operating more efficiently and easing the firing of poorly performing and misbehaving federal workers. Several agency leaders testified to his committee that they were struggling to terminate employees responsible for misconduct the committee was investigating.
Chaffetz said in January at the outset of the 115th Congress his committee would work to end feds' defined benefits pensions, shrink the size of the federal workforce and tackle firing reform on an agency-by-agency basis. With Obama out of office, Chaffetz said he was "excited we get to actually do the reform part of this." The chairman often praised what he estimated as 99 percent of the federal workforce as patriotic, hard-working Americans, while adding reforms were necessary to deal with the other 1 percent.
"There are a lot of good, quality workers," Chaffetz said in January, "but there are too many of them."
Chaffetz's successor on the oversight committee will not be announced until after the 2018 midterm election. In 2015, Rep. Mark Meadows, R-N.C., was named chairman of the Government Operations Subcommittee and given primary responsibility in drafting the committee's legislation. He has rankled leadership as chairman of the House Freedom Caucus, however, most recently in his leading opposition to the American Health Care Act.