A Satellite Image Shows the Incredible Size and Fury of Hurricane Irma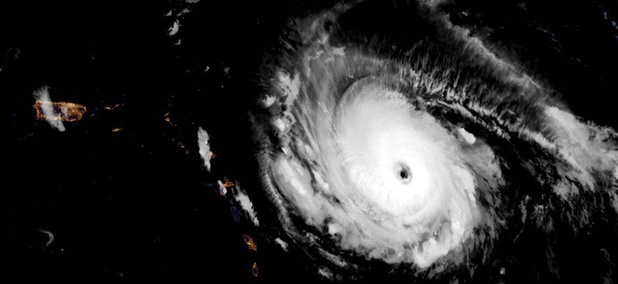 As Texans begin a long and expensive road to recovery in the wake of Hurricane Harvey, forecasters are already closely tracking another massive hurricane, Irma, which is quickly approaching the Caribbean.
#GOES16 captured this visible imagery of Hurricane #Irma's eye earlier today. For the latest on Irma, go to https://t.co/cSGOfrM0lG. pic.twitter.com/JcKBXcl0Ws

— NOAA Satellites (@NOAASatellites) September 5, 2017
Irma is the strongest hurricane ever recorded in the Atlantic, according to the National Weather Service (NWS). With sustained winds of 180mph, Irma is currently more powerful than Hurricane Katrina was at its peak.
US National Oceanic and Atmospheric Administration (NOAA) satellites captured the following images, which show the overwhelming size of the storm as it heads toward Puerto Rico and the eastern Carribbean.
UPDATE: NOAA's #GOES16 shows #HurricaneIrma, the strongest hurricane ever recorded in the Atlantic -- outside the Caribbean, Gulf of Mexico. pic.twitter.com/V2CsAIMs79

— NOAA Satellites PA (@NOAASatellitePA) September 5, 2017
On the left, Puerto Rico and the eastern Caribbean.
On the right, Category 4 Hurricane Irma.
(Image taken just now, via GOES-16) pic.twitter.com/meq4yWpy6w

— Eric Holthaus (@EricHolthaus) September 5, 2017
The "extremely dangerous" core of Irma is forecast to move over portions of the northern Leeward Islands tonight and early Wednesday, the NWS said. The storm could hit the US state of Florida by the weekend, where governor Rick Scott has already declared a state of emergency.
You can track imagery of Irma here, where NASA compiles its global weather satellite images. Plus, follow the storm's progress in real time as it hits land with these live web cams.