Hill Investigators Uncover New 'Unethical and Potentially Illegal' Allegations Against Pruitt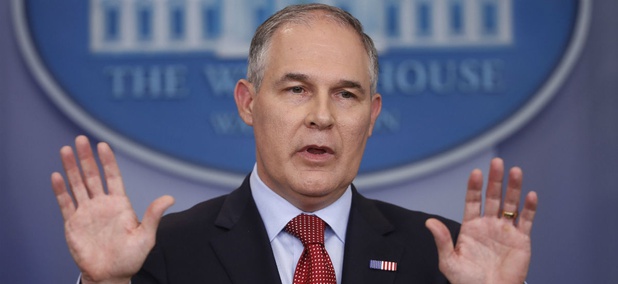 Five Democratic lawmakers sent a letter to embattled Environmental Protection Agency Administrator Scott Pruitt Thursday outlining an array of new allegations of wasteful spending and employee retaliation, following an interview between former a EPA staffer and congressional investigators.
Former EPA Deputy Chief of Staff for Operations Kevin Chmielewski met with Democratic staff on Capitol Hill this week and provided new details of how Pruitt allegedly overspent on travel and security, and then retaliated against officials who questioned his actions.
"The new information provided by Mr. Chmielewski, if accurate, leaves us certain that your leadership at EPA has been fraught with numerous and repeated unethical and potentially illegal actions on a wide range of consequential matters," lawmakers told Pruitt.
» Get the best federal news and ideas delivered right to your inbox. Sign up here.
Chmielewski, who accused Pruitt of putting him on administrative leave in retaliation for blocking some requests, corroborated several previously reported incidents, such as Pruitt's attempts to use motorcade sirens to move through traffic and aborted plans to rent a private jet at a cost of $100,00 per month. Chmielewski also provided new details about Pruitt's unconventional travel and overseas accommodations, the lawmakers wrote.
"Mr. Chmielewski said he observed that your travel destinations are often dictated by your desire to visit particular cities or countries rather than official business, and that you tell your staff to 'find me something to do [in those locations]' to justify the use of taxpayer funds," they told Pruitt. "He stated that you direct your staff to book flights on Delta, even when they are not the federal government's contract carrier for the route, because you want to accrue more frequent flyer miles."
Chmielewski also said Pruitt often demanded staff come up with a pretense to spend weekends in his home state of Oklahoma at taxpayers' expense.
The letter was signed by Senate Environment and Public Works Committee Ranking Member Tom Carper, D-Del.; Sen. Sheldon Whitehouse, D-R.I.; House Oversight and Government Reform Committee Ranking Member Elijah Cummings, D-Md.; and Reps. Gerry Connolly, D-Va., and Don Beyer, D-Va.
Additionally, the former staffer said that Pruitt twice turned down recommendations that he stay at embassy-endorsed hotels in Australia and Italy, opting for more expensive rooms at facilities with less security.
"On at least two occasions when planning international trips to Australia and Italy, Mr. Chmielewski claimed that you refused to stay at hotels recommended by the U.S. Embassy, although the recommended hotel had law enforcement and other U.S. resources on-site," Democrats wrote. "He alleged you chose to stay instead at more expensive hotels with fewer standard security resources, and to bring your security team with you, at taxpayer expense."
Chmielewski also rebuffed Pruitt's claims that he was unaware of efforts to give two of his closest aides substantial pay raises, despite disapproval from the White House. Chmielewski told congressional staffers that the raises were "100 percent Pruitt himself."
Chmielewski said he was retaliated against, and ultimately put on administrative leave, after he refused to approve first-class travel for Pruitt's aide Samantha Dravis, who received one of the controversial pay increases and recently resigned from the agency, to return with the administrator from Morocco last December.
"He told our staffs that following his refusal, Chief of Staff Ryan Jackson called Mr. Chmielewski into his office and informed him that you wished to fire or reassign him," the letter stated. "When Mr. Chmielewski returned from [a February trip with Vice President Mike Pence], he said that your head of security, Mr. Nino Perrotta, sought to have his credentials for entering the EPA building confiscated."
Perrotta allegedly told Chmielewski that he would come to his home and forcibly take away his parking pass, which Chmielewski said he viewed as a threat and reported to police, as well as EPA and White House officials.
The lawmakers demanded a trove of documents and emails related to Pruitt's purchases, travel, staff involvement in his Capitol Hill condo rental, and any disciplinary action taken against EPA staffers. They also forwarded the letter to President Trump, suggesting he had not been fully briefed on Pruitt's conduct.
On Thursday, The Washington Post reported that Carper and Sen. Jeff Merkley, D-Ore., sent a letter to the EPA inspector general requesting an investigation into Pruitt's email use, after allegations that the administrator maintains three secret email accounts, in addition to his official public-facing Pruitt.Scott@epa.gov address.
"It is imperative that there be an investigation into whether the agency has properly searched these email addresses for responsive documents in response to Freedom of Information Act requests," Carper and Merkley wrote.
The new allegations from Capitol Hill come on the heels of a renewed request for documents by House Oversight and Government Reform Committee Chairman Trey Gowdy, R-S.C., who expanded the committee's original probe of the administrator's travels to include information on his 2017 condo rental. In his letter, Gowdy noted that the agency still has not produced documentation of waivers approving first class and business class travel and Pruitt's allegations, thus far unfounded, that he faces "specific, ongoing threats" to his safety.
"The April 4 [EPA ethics official memorandum] raises questions about whether ethics officials who reviewed the lease had access to all relevant information, and whether all applicable ethics rules were considered when those officials concluded the lease agreement complied with federal ethics regulations," Gowdy wrote.