Government Must Pay Damages to 25,000 Feds Who Worked During 2013 Shutdown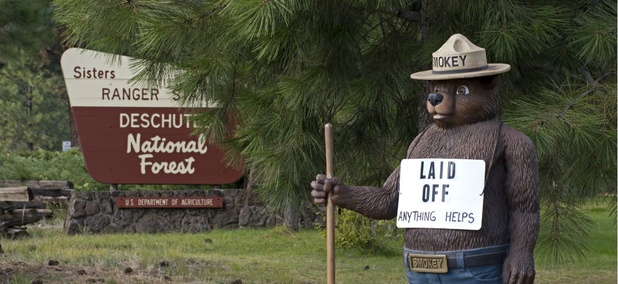 The government must compensate 25,000 federal employees for damages they incurred during the 2013 shutdown, a federal judge ruled this week in a case filed more than two years ago.
U.S. Court of Federal Claims Judge Patricia Campbell-Smith ordered the compensation for the individuals who signed onto the collective action lawsuit against the government, alleging a violation of the 1938 Fair Labor Standards Act. More than 200,000 employees who were forced to work during the shutdown because their salaries were paid from non-annually appropriated accounts or because their jobs protected life or property were eligible to join the case. While their pay was guaranteed, they did not receive it until the shutdown concluded after 16 days.
The exact damages for each of the more than 25,000 employees who proactively signed onto the case will vary for each individual, according to Heidi Burakiewicz, an attorney at the law firm Mehri & Skalet, which is representing the workers. The plaintiffs will receive $7.25—the federal minimum wage—times the number of hours worked between Oct. 1 and Oct. 5, 2013, the period in which paychecks were delayed. This amounts to $290 for employees who worked eight-hour days, plus any overtime they are due. If employees worked the first two days of that week—Sept. 29 (a Sunday) and Sept. 30—they would have received pay on a normal schedule, which would affect their payout.
Burakiewicz said she could not think of an FLSA case that had this many individuals opt in. Campbell-Smith ruled in 2014 the government was in violation of the FLSA when it delayed payments for hours worked in that period to most of the 1.2 million employees forced to report during the shutdown. Federal agencies were subsequently forced to notify hundreds of thousands of federal workers of their eligibility to join the suit. FLSA-exempt workers, such as teachers, nurses and high-level managers, and those who earned more than $290 on Sept. 29 and Sept. 30 were not entitled to join the case.
The five Bureau of Prisons employees who originally filed the suit were "really excited" by the decision, Burakiewicz said. The employees who worked through the 16-day shutdown were deemed essential. "Our country cannot function without these people," she said.
"It is unacceptable to mistreat them the way we did during this shutdown," Burakiewicz said. The ruling sent the message to lawmakers: "Don't let this happen again." She said the employees "really did suffer harm," as many were left wondering how they would pay their bills and feed their children.
The government and Burakiewicz's firm must now calculate the amount due to each plaintiff, or category of plaintiff, by March 17. They will then have more time to discuss disagreements before sending final numbers to the court by April 7. The Justice Department has not yet said whether it will draw from its Judgment Fund or if each agency will be responsible for compensating its employees, or if it will use another funding source to make the payments.
"We are reviewing the decision and have no further comment," said Nicole Navas, a Justice spokeswoman.
Image via Ginger Livingston Sanders/Shutterstock.